Written by Suzanne on July 12, 2008
It's Saturday, almost sunset in Southern California. The light of the day is about to fade away into another summer night. Anyone else remember the song Light and Day years ago by Polyphonic Spree?
A friend of mine sent me a vid clip featuring Jack Black and for some reason it reminded me of that massive pop choir all dressed in white, ready for a musical revival. When my daughter was around 3 years old she loved twirling in my computer chair with her eyes closed while listening to their song Light and Day. I had mixed feelings because even though the song was contagious, the idea that they had a cult following with people saying their concerts transformed them sort of freaked me out.
Of course this is a bit silly because I find inspiration in the strangest of pop culture places. I recently watched Kung Fu Panda and was high for days with the idea that I could do the impossible just like Po the Panda if I just believed. I also get fired up about taking on new adventures in life whenever I listen to Madonna's song Give It 2 Me off her Hard Candy album.
So I can see how people's lives or at least their idea of them might change miraculously by being at an event. Anyone out there feel changed by some musical, theatrical or artistic experience? What about Alf? How many people were altered to another layer of existence after viewing Alf for the first time? Come on now there's got to be at least one person out there.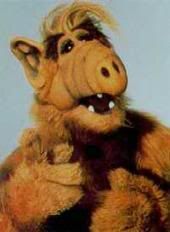 One Comment to "Inspirational Pop"
Donna Says:
July 13th, 2008 at 12:43 pm

really enjoyed the show Alf and looked forward to it being on each week. I'd have to say ET brought a lot of emotion in myself. I laughed at the antics he did, and cried when he sadly moaned, 'ET go home.' I cried more when he was almost dead and felt for those that loved him and would miss him. I felt happiness when he came alive again. Mixed emotions occurred at the end of the movie when he did get to go home. Pollyanna was a movie that made me realize that life is full of ups and downs and it is possible to get through the worst by changing your thoughts. (With the help of a lot of prisms hanging in a window and a lot of good friends and family)
Leave a Comment