Posts Tagged 'The Odd Couple'
Written by Suzanne on October 9, 2009 – 7:19 am -
It's time for a Friday Flashback. Let's go back in time to 1970-1975. I was too young to appreciate The Odd Couple when it first aired on TV but I did enjoy reruns several years later. The Odd Couple starred Tony Randall as Felix Unger and Jack Klugman as Oscar Madison.
The Odd Couple started out as a play by Neil Simon and in 1968 the film  was made starring Jack Lemmon as Felix and Walter Matthau as Oscar.
Spending much of my childhood a few feet away from a TV, I tend to remember the TV series better. Quick synopsis: Felix Unger's wife kicks him out and he has no one to turn to except his childhood friend Oscar Madison. Oscar takes him in and while their lifestyles are constantly at odds the storyline creates great conflict and laughs for a sitcom.
Not only was the storyline great but the characters are memorable and the laughs stand the test of decades. The question still remains, "Can two divorced men share an apartment without driving each other crazy?"
Taste of Trivia: Did you know that in 1973 Tony Randall and Jack Klugman recorded an album called "The Odd Couple Sings" for London Records? Roland Shaw and The London Festival Orchestra and Chorus provided the music and additional vocals. It didn't hit the Billboard Charts but the fans must have got a kick out of it.
Listen to the songs on the album by clicking here.
Written by Suzanne on June 17, 2008 – 7:39 am -
As I've mentioned before, I grew up on re-runs, and 70's shows that were originals back in the day. I loved The Dick Van Dyke Show, Happy Days, Mork & Mindy, Laverne & Shirley, and The Odd Couple.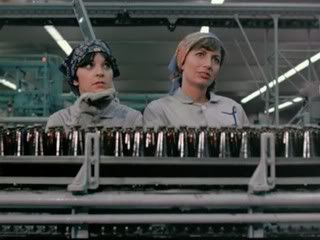 These are all classics by the well-known director, writer and producer Gary Marshall who won this years Legend award on the TV Land Awards.
When you get teary eyed at the applause for Henry Winkler you know you've been brainwashed by Gary Marshall. There are some of us on this earth that have a sort of unexplainable connection with classic sitcoms. Awards presentations like this one can make us laugh, cry or remember what we were doing the moments we first watched the shows we grew up with. Dick Van Dyke, Jack Klugman, Penny Marshall, Cindy Williams, and Henry Winkler presented the Legend Award to Mr. Marshall and every presenter earned a standing ovation.
Robin Williams introduced Jonathon Winters, giving him the Pioneer award. Their comedic banter and friendly demeanor with one another was great to watch. It was two of the best improv comedians together on the small screen again. You might remember them from when Mork & Mindy had a baby on the show. Remember Orkans aged backwards so Winters was an older and oversized baby for Robin Williams and Pam Dawber's characters.
For me this was when they had their "jumping the shark" moment but Winters and Robin had a rapport that made it work, even though the storyline took a bit of a dive. Check out this funny clip via youtube, of Jonathan Winters outtakes during an ice cream bar commercial:
I could go on and on about the awards ceremony, from Roseanne to Justin Timberlake; yes Justin Timberlake, he was there to present Mike Myers with the Lucile Ball Legacy of Laughter Award. Of course they both plugged their upcoming film The Love Guru. I'm not sure what I think about that one yet.
From Lionel Richie to the Golden Girls, the room was full with a varied list of performers. I'll let you browse the TV Land Award site for yourself. They give you an all access pass with photos, articles, videos from the show, and great backstage clips. Their site makes it fairly simple to find out who won and who attended.
My favorite part of the show was Vanessa Williams performing an opening number where she continued with the flying theme from years before. The audience was entertained by Doc from Love Boat, Jimmie Walker, Beaver Cleaver, Gary Coleman, Gilligan's Maryanne, Nellie Olsen, Horshak, and even Greg Brady was able to fly over viewers with the happy thoughts of margaritas.
The idea that I'm thrilled to watch a taped awards presentation in hopes of seeing familiar faces from favorite retro shows, makes me stop and wonder what I'd be like if I never had a TV growing up in the first place. I don't dare ponder that thought for too long. How about you? Did you watch the TV Land awards? If so, who were you happy to see this year?