Posts Tagged 'TV Land Awards'
Written by Suzanne on July 19, 2008 – 6:34 am -
I grew up watching re-runs of I Dream of Jeannie, wishing that I lived in that lavish bottle, and could bob my ponytail and make wishes come true. Come to think of it, I still wish I could do that.
Jeannie's bottle was not only comfy and fun on the inside it was stunning on the outside, with ornate designs and mystical colors of purple, pink and gold. I know I can't magically poof my way into one of these beautiful bottles but I found out I can own one of them. Thanks to Mario Della Casa, I can purchase my very own Jeannie Bottle. You can too!
I wanted to find out more about Mario Della Casa, the Jeannie Bottle maker. Mario is also an amazing artist, creating exclusive paintings for celebrities and anyone looking for their own elegant painting.
Learn more about Mario and his artwork by reading my interview with him:
HIH: I loved and still love watching re-runs of I Dream of Jeannie. I imagine you are a fan of the show since you create intricate Jeannie bottles. Can you explain how you went from being a fan of the show to making official bottles as custom artwork?
Mario: One of my fondest and earliest memories is watching the show while it was originally aired in black and white. Some things just stay with you for life, and Jeannie is one of them.
From that day on, I was hooked!!! I Loved Jeannie, but even more…. I JUST HAD TO HAVE THAT BOTTLE!
I knew that I probably wasn't the only one who might want a Jeannie bottle of my very own, so I decided to make other fans' dreams come true by making them! The look of amazement when friends and family would walk into my home and discover Jeannie's Bottle sitting right there on my fireplace mantel is something I still get a kick out of every single time it happens! It's truly unbelievable.
As a fellow I Dream of Jeannie fan I am sure you can understand that there will be no better feeling than to hold your very own Jeannie bottle for the very first time, pulling off the top and making that first wish! It's a major rush!
I believe the world would be a better place, if everyone's wishes came true. I believe in my own small way I am helping dreams & wishes come true when I create this stunning magical bottle. As an artist I find it a very rewarding challenge to be able to create such a masterpiece. A lot of time, thought, dedication and LOVE goes into making each one, its truly a work of art.
My Gallery Bottles are handcrafted and created in BRASS so they will last forever and will NOT BREAK! They really are truly outstanding, and even Ms. Barbara Eden, Mr. Larry Hagman & Mr. Bill Daily Own My Collection.
On a personal note, what I do is more than just making a bottle. It's all about having you hold it – making all those childhood dreams and heart filled wishes you ever wanted to make. To have your mind and soul slip back in time and actually re-live those happier days.
Most of all, I want to bring back Magic into your lives. My reward is watching that smile appear on your face, believing that wishes DO come true. If this is accomplished, then one of my own wishes have come true.
Professionally I wear many hats, Not only am I am an Artist of The I Dream of Jeannie Bottle and the owner of www.JeannieBottles.com I am also a Celebrity Artist and the owner of www.ElegantPaintings.com and if that weren't enough, I am also a celebrity booking agent :)
There's a video online that you can see that will show you more about me, which is at
http://www.elegantpaintings.com/index_video.html
HIH: What does the cast of I Dream of Jeannie think of your bottles?
Mario: The Cast loves my Bottles, I am the only Artist in History ever awarded the license to create The Authorized I dream of Jeannie Bottle, Barbara is a Classy Lady, and Larry & Bill are very close and dear friends of mine, so I am very lucky to have the endorsement of the cast of I Dream of Jeannie.
HIH: I believe that retro television has its own artistic merit because it can evoke many feelings in a person. It can also have somewhat of a social commentary. What are some of your favorite television shows from decades past that spark your emotions?
Mario: Bewitched, Nanny & the Professor, I Love Lucy, The Munsters, Lost In Space, Every one of these shows had Magic, Fantasy, and fun in them and it really allowed me to explore my inner-self. If it were not for these shows I would have definitely taken another path in life I'm sure.
HIH: You and your Jeannie bottles were featured on the TV Land Awards. That would be a great show to attend, especially for a pop culture junkie like me. What was your experience like?
Mario: My bottles did not only feature on TVLAND, but I was the Artist for the award bottle. Every person that won the award and all the actors that attended the show also received my bottle. It's always a wonderful & magical experience, to attend red carpet events, I have been to many.
Not only has my bottle been featured on TVLAND but I have shared my unique expertise of Hollywood art with a truly exclusive clientele that includes Hollywood superstars, Major players in the motion picture and television industries, chief executive officers of U.S. and international corporations, authors, judges, legislators. My work has been exhibited in the United States, throughout the United Kingdom and Australia, as well as having been featured on GOOD MORNING AMERICA, ENTERTAINMENT TONIGHT, A&E BIOGRAPHY, and on the TV Land Television Network. I have also created unique art pieces for numerous national commercials, magazines and currently appearing on LifetimeTV's "Life among the Dead" Staring Lisa Williams.
HIH: I've read that people who receive your paintings think you have tapped into the memories & spirit of the subjects you paint. Do you feel a spiritual connection while you are painting?
Mario: I wouldn't call it spiritual connection, but I do enter a ZONE while I am painting, and I am not happy until the painting is pure perfection.
HIH: At what age did you realize your artistic talent?
Mario: All my life
HIH: Talent doesn't always go along with passion, when did your enthusiasm for painting begin?
Mario: Since I discovered I could make my own coloring books as a child
HIH: What can you say to the aspiring artists out there about forging ahead with their own ideas?
Mario: That they should NEVER say "I am not as good as this person or that person" You don't need to be as good as someone else you just need to be as good as YOU are. To be able to have a creative mind is a gift and not to use it is a SIN, and this world NEEDS artist to make it a more colorful place, its more than our duty, it's our responsibility to share it, and make this world a brighter and more colorful place to be.
HIH: Your IMDb resume says you were on an Italian soap opera for years. Tell us about your acting career. Do you have the same excitement for acting as you do you art?
Mario: I was very very young I really have no memory of the show
HIH: You seem very close to your mother Pina Della Casa. of www.PinaDellaCasa.com She is the author of a book called The Littlest Book for Acid Burning Relief. She seems like an extraordinary business woman. How has she influenced your artistic talent?
Mario: My mother is the best mother in the world and has always stood by me telling me how proud she is of me, I am Proud to say that My mother is "Beauty" in the purest form inside and out. A strong and an amazing woman. She has always inspired me to be ME, and all she wants in return is for me to be happy. I am lucky to have her nearby, and I count my blessings and thank God for her each and every day.
HIH: Many celebrities endorse your photo realistic artwork and Jeannie bottles. Anthony Michael Hall has your artwork banner on his MySpace page. When did you meet Anthony Michael Hall?
Mario: I have known the Hall Family for years. "The Hall Family" are my extended family actually. I love them very dearly. They are all Talented and wonderful and beautiful people AMH's mother is one of the BEST singers in the world, his Father Tommy is a Brilliant Entertainment manager and His Sister Mary is just like her mother when it comes to talent. Believe me, the fruit didn't fall far from the trees in that family that's for sure! I am lucky to know them and they are a huge part of my life and family. We are as close as family can ever be, so yes to answer your question, I've met him lol! As far as Celebrities, My clientele list of famous clients is impressive, including Anthony Michael Hall,  Oprah, Lisa Williams, Pamela Anderson, John Edward, Barbara Eden, Larry Hagman, Charlene Tilton, Linda Grey, Linda Blair, Kate Mulgrew, Penny Marshal and Cindy Williams are among those that own or have his work. The Late Aaron Spelling, The Late Christopher and Dana Reeve,  Laurence Fishburne, Gina Davis and the Museum of Television's James Comisar and many other Hollywood notables.
HIH: What artists do you admire most?
Mario:   All The Masters work. But I admire the common artist more, because its the fresh ideas that will keep us going!
HIH:   Are you involved with any charitable events?
Mario:   I am uniquely committed to assisting those who struggle with the present, having raised money for Project Angel Food, Make a Wish Foundation, and numerous Pet Saving Organizations. I have donated my art specifically for Christie's, Sotheby's and the Hollywood memorabilia department for Butterfields, so they may auction my artwork to raise funds for those in need. On October  12,th 2008, I will be at the Beverly Hills Hilton selling my best works so I can help with The Event VOICE LOVES MUSIC. This event needs your support, it is charity event that is battling Domestic Violence Against Woman. I ask every woman to go to this website, http://voiceslovemusic.com/dv.html  and get your tickets, and come support this wonderful organization. I will have my artwork at the event where you can see it and purchase it at a discounted rate. Make no mistake, Every sale I generate I will be donating monies back to this very important and wonderful charity.
In Closing I ask that MySpace members please add www.myspace.com/beautifulwonderwithin and www.myspace.com/voiceslovemusic to show your support, and while you're at it add me too www.myspace.com/mariodellacasa
 
Written by Suzanne on June 17, 2008 – 7:39 am -
As I've mentioned before, I grew up on re-runs, and 70's shows that were originals back in the day. I loved The Dick Van Dyke Show, Happy Days, Mork & Mindy, Laverne & Shirley, and The Odd Couple.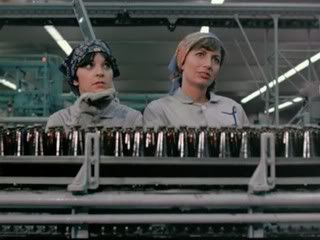 These are all classics by the well-known director, writer and producer Gary Marshall who won this years Legend award on the TV Land Awards.
When you get teary eyed at the applause for Henry Winkler you know you've been brainwashed by Gary Marshall. There are some of us on this earth that have a sort of unexplainable connection with classic sitcoms. Awards presentations like this one can make us laugh, cry or remember what we were doing the moments we first watched the shows we grew up with. Dick Van Dyke, Jack Klugman, Penny Marshall, Cindy Williams, and Henry Winkler presented the Legend Award to Mr. Marshall and every presenter earned a standing ovation.
Robin Williams introduced Jonathon Winters, giving him the Pioneer award. Their comedic banter and friendly demeanor with one another was great to watch. It was two of the best improv comedians together on the small screen again. You might remember them from when Mork & Mindy had a baby on the show. Remember Orkans aged backwards so Winters was an older and oversized baby for Robin Williams and Pam Dawber's characters.
For me this was when they had their "jumping the shark" moment but Winters and Robin had a rapport that made it work, even though the storyline took a bit of a dive. Check out this funny clip via youtube, of Jonathan Winters outtakes during an ice cream bar commercial:
I could go on and on about the awards ceremony, from Roseanne to Justin Timberlake; yes Justin Timberlake, he was there to present Mike Myers with the Lucile Ball Legacy of Laughter Award. Of course they both plugged their upcoming film The Love Guru. I'm not sure what I think about that one yet.
From Lionel Richie to the Golden Girls, the room was full with a varied list of performers. I'll let you browse the TV Land Award site for yourself. They give you an all access pass with photos, articles, videos from the show, and great backstage clips. Their site makes it fairly simple to find out who won and who attended.
My favorite part of the show was Vanessa Williams performing an opening number where she continued with the flying theme from years before. The audience was entertained by Doc from Love Boat, Jimmie Walker, Beaver Cleaver, Gary Coleman, Gilligan's Maryanne, Nellie Olsen, Horshak, and even Greg Brady was able to fly over viewers with the happy thoughts of margaritas.
The idea that I'm thrilled to watch a taped awards presentation in hopes of seeing familiar faces from favorite retro shows, makes me stop and wonder what I'd be like if I never had a TV growing up in the first place. I don't dare ponder that thought for too long. How about you? Did you watch the TV Land awards? If so, who were you happy to see this year?